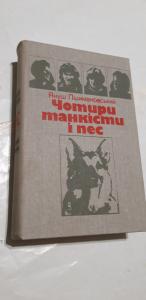 Пшимановський Я. Чотири танкісти і пес Київ: Дніпро. 1987 775s., binding type: hardcover.
Category: Book, journal, almanac
Rubric: Prose XX-XXI centuries. in Ukrainian language;
Place of origin of goods: СССР
Language: Ukrainian
Description: У повісті відомого польського письменника розповідається про бойові будні бійців однієї з танкових бригад Війська Польського. В центрі оповіді інтернаціональний екіпаж танка - четверо друзів-танкістів. В даному виданні зібрані всі три частини повісті.
Status: хорошее
Description of seller: Пересылаю Укрпочтой, Новой почтой по предоплате на карту Приватбанка, или наложенным платежем. Номер телефона 0678742527, 0934826417 Ел.почта vova.andrushenko.78@mail.ru
ORDER FORM
Marked with * is required