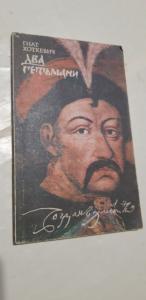 Хоткевич Г. Два гетьмани Київ: Дніпро. 1991 107s., binding type: paperback.
Category: Book, journal, almanac
Rubric: History of Ukraine; Biographies, memoirs, pictures: War, Politics, Diplomacy; Biographies, memoirs, images: popular movements, plots, riots, revolutions, Revolution.;
Place of origin of goods: СССР
Language: Ukrainian
Description: Дві постаті історичного минулого українського народу в полі зору українського письменника Гната Хоткевича (1877—1938), два гетьмани, перший з яких — Богдан Хмельницький — стояв біля витоків ідеї української державності, а другий — Іван Мазепа — намагався втілити цю ідею в життя. Перо письменника — схвильоване, пристрасне, роздуми про трагічні сторінки української історії глибокі, об'єктивно логічні, а стиль викладу — легкий, іскристий, динамічний. Невеликі обсяги двох розповідей вміщують багатий архівний матеріал, що також привабить увагу читача.
Status: хорошее
Description of seller: Пересылаю Укрпочтой, Новой почтой по предоплате на карту Приватбанка, или наложенным платежем. Номер телефона 0678742527, 0934826417 Ел.почта vova.andrushenko.78@mail.ru
ORDER FORM
Marked with * is required