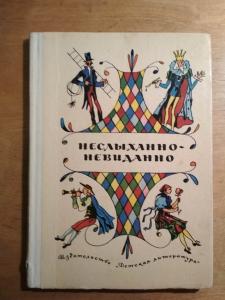 Коллектив авторов Неслыханно-невиданно Москва: детская литература. 1976 125s., binding type: hardcover.
Category: Book, journal, almanac
Rubric: Children`s Literature: Stories, poems and fables; Poetry XX-XXI centuries.; Children and all on this topic;
Place of origin of goods: Азия
Language: Russian
Description: В книге представлены стихи чешских поэтов:Незвала,Грубина,Кайнара,Флориана,Чарека и др.
Status: хорошее. незначительный дефект у нижнего корешка
Description of seller: иллюстрировал книгу художник Э. Гороховский. стихи перевели с чешского:Воронский,Солонович Сеф,Токмакова,Эппель и др.
(Seller: valeri)
Price 86,00 грн.
ORDER FORM
Marked with * is required