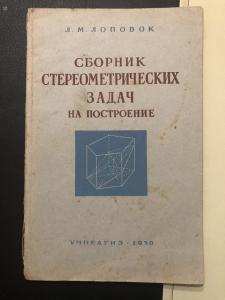 Лоповок Л.М. Сборник стереометрических задач на построение. УЧПЕДГИЗ. 1950 72s., binding type: paperback.
Category: Book, journal, almanac
Rubric: Mathematics; Benefits for Teachers; Textbooks and manuals;
Place of origin of goods: СССР
Language: Russian
Description: Сборник стереометрических задач на построение, Л.М.Лоповок, Пособие для учителей средней школы, под ред. А.Д.Посвянского, УЧПЕДГИЗ, Москва, 1950. Тираж 25000 экз
Status: Нормальное, загрязнения обложки, поврежден корешок переплета, есть подпись на первой странице
(Seller: alenysk)
Price 100,00 грн.
ORDER FORM
Marked with * is required