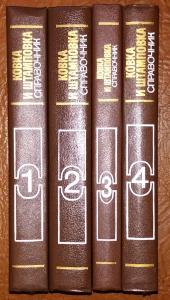 Авторський колектив Ковка и штамповка: Справочник. В 4-х томах. Под ред. Е. И. Семенова Москва: Машиностроение. 1987 2088s., binding type: hardcover.
Category: Book, journal, almanac
Rubric: Engineering, instrument; Industry, production; Reference;
Place of origin of goods: СССР
Language: Russian
Description: Фахове видання для інженерно-технічних працівників у галузі кування і штампування виробів з металів і сплавів
Status: Стан нової книги
Description of seller: Тираж 20677 прим.
(Seller: retry)
Price 250,00 грн.
ORDER FORM
Marked with * is required