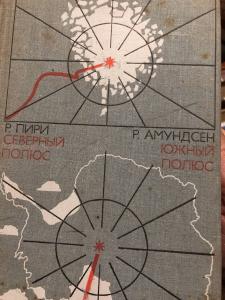 Пири Р. Амурдсен Р. Северный полюс. Южный полюс. Москва: "Мысль". 1981 596s., binding type: hardcover.
Category: Book, journal, almanac
Rubric: Travel. Geographical discoveries; Geography: The Arctic, Antarctica; Biographies, memoirs, images: Travel, Adventure, Sports.;
Place of origin of goods: СССР
Language: Russian
Description: Удивительное издание, где под одной обложкой находятся мемуары первооткрывателей и покорителей Северного и Южного полюса. Книга о величии человеческого духа, о подвигах первооткрывателей, о трудах и быте выдающихся полярных исследователей.
Status: Хорошее, пятна на обложках
ORDER FORM
Marked with * is required