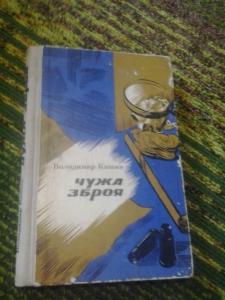 Кашин В. Чужа зброя Київ: Радянський письменник. 1979 246s., binding type: hardcover.
Category: Book, journal, almanac
Rubric: Ukrainian prose of XX-XXI centuries.; Detectives, Adventure; WW2 The Second World War, 1939-1945.;
Place of origin of goods: Украина
Description: Зустріч з полковником міліції Дмитром Ковалем відбувається на Черкащині, де він очолює оперативну групу, яка займається розслідуванням злочину. Поряд з показом нелегких буднів працівників міліції, змальовано життя села, його працьовитих, чесних людей.
Status: Потертість обложки
Description of seller: Пересылаю Укрпочтой, Новой почтой по предоплате на карту Приватбанка, или наложенным платежем. Номер телефона 0678742527, 0934826417 Ел.почта vova.andrushenko.78@mail.ru
ORDER FORM
Marked with * is required