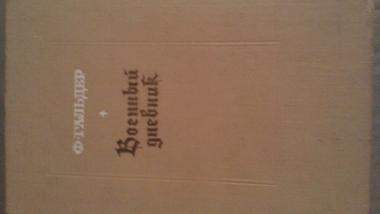 Франц Гальдер (Franz Halder) Военный дневник (KRIEGSTAGEBUCH) москва: Ордена Трудового Красного Знамени. 1971 370s., binding type: hardcover.
Category: Book, journal, almanac
Rubric: Military history; Warfare: Theory and Practice, tactics and strategy; WW2 The Second World War, 1939-1945.;
Place of origin of goods: СССР
Description: 3 том. Часть вторая. Перевод с немецкого под редакцией и с предисловием генерала-лейтенанта П. А. Жилина. Band 3. Teil .Übersetzt aus dem Deutschen herausgegeben und mit einem Vorwort von Generalleutnant PA Zhilin.
Status: Хорошее,есть владельческие надписи. Nun, es gibt besitz Inschirfiften.
ORDER FORM
Marked with * is required