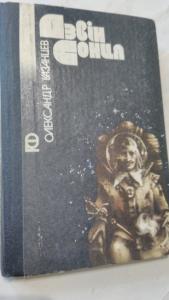 Казанцев О. Дзвін Сонця Київ: Веселка. 1988 262s., binding type: hardcover.
Category: Book, journal, almanac
Rubric: Fantasy, utopian and dystopian fiction; Ukrainian book series of The Adventures and Science Fiction;
Place of origin of goods: СССР
Description: Серія: Пригоди, Фантастика Художник Б. Волков. Перевод В. Иванины. Две повести-гипотезы ("Промінь із каземату", "Таємниця мушкетерських часів") о Сирано де Бержераке.
Status: хорошее
Description of seller: Пересылаю Укрпочтой, Новой почтой по предоплате на карту Приватбанка, или наложенным платежем. Номер телефона 0678742527, 0934826417 Ел.почта [email protected]
ORDER FORM
Marked with * is required