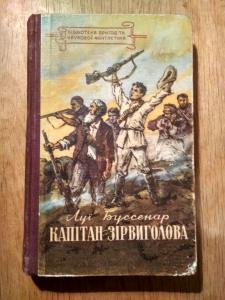 Луї Буссенар Капітан зірвиголова Київ: Молодь. 1957 259s., binding type: hardcover.
Category: Book, journal, almanac
Rubric: Ukrainian series "Бібліотека пригод та наукової фантастики" ("Library of Adventures and Science Fiction");
Place of origin of goods: СССР
Language: Ukrainian
Description: В романі автор розповідає про боротьбу бурів в Південній Африці проти англійського колоніального панування в 1899-1902 рр.. Нікомуне впоратися хлопчисками,що встали на захист маленької республіки.
Status: добре. надпись властника на ттитулє
(Seller: valeri)
Price 50,00 грн.
ORDER FORM
Marked with * is required