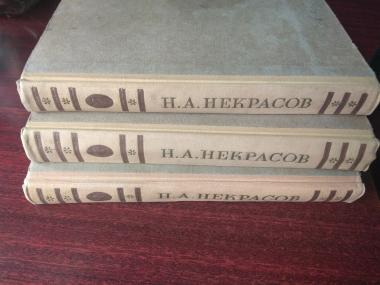 Некрасов Н.А. Сочинения в 3 томах Москва: Государственное издательство Художественной литера. 1959 binding type: hardcover.
Category: Book, journal, almanac
Rubric: Poetry to the XX century.; Multi-volume edition of collected works;
Place of origin of goods: Азия
Language: Russian
Status: хорошее
Description of seller: Серия «Библиотека классиков русской литературы». Сочинения Н.А. Некрасова в трех томах - содержит стихотворения и поэмы. В основу этого издания положено Полное собрание сочинений и писем Н.А. Некрасова, Гослитиздат, 1948-1953, с дополнительной сверкой текстов по прижизненным публикациям, что позволило в ряде случаев уточнить тексты и датировку отдельных произведений. Произведения печатаются в хронологическом порядке.
(Seller: Olenka)
Price 80,00 грн.
ORDER FORM
Marked with * is required