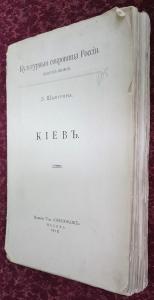 Шамурина З. Кіевъ Москва: Т-во "ОБРАЗОВАНІЕ". 1912 85s., binding type: hardcover.
Category: Book, journal, almanac
Rubric: Regional studies of the Central Ukraine; History of Ukraine; Architecture, Building;
Place of origin of goods: Россия
Language: Russian
Description: "Культурныя сокровища Россіи". Выпуск второй. 30 вклеек с черно-белыми фотоиллюстрациями. Формат 17,5 см х 26 см.
Status: полностью утрачена обложка, экземпляр распался на отдельные тетради, местами - листы, но все листы и вклейки с иллюстрациями в наличии, небольшие надрывы в нескольких местах, надпись карандашом и пятнышко на титульном листе
ORDER FORM
Marked with * is required