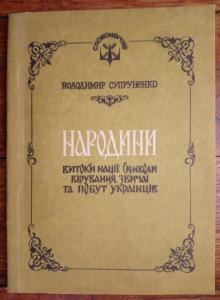 Супруненко В. П. Народини: Витоки нації; символи, вірування, звичаї та побут українців Запоріжжя: МП "Берегиня" - СП "ФАЄЗ". 1993 136s., binding type: paperback.
Category: Book, journal, almanac
Rubric: Ukrainistics; Anthropology, ethnography, mythology, folklore; History of Ukraine;
Place of origin of goods: Украина
Language: Ukrainian
Description: Серія "Споконвічне". Книжка сумлінного дослідника духовної та матеріальної культури рідного народу відтворює цілісну етнологічну картину України від найдавніших часів. Художники В. К. Зуєв, Н. В. Зуєва. Два аркуші-вклейки з кольоровими ілюстраціями. Наклад 50 000. Формат зменшений: 13 х 17 х 1 см.
Status: дуже добрий, напис на останній сторінці
ORDER FORM
Marked with * is required