А. А. Готовцев, С. П. Демидов, А. В. Карп и др. Справочник металлиста. В 5-ти томах Москва: Машиностроение. 1976 binding type: hardcover.
Category: Book, journal, almanac
Rubric: Other technical research and production; Engineering, instrument; Multi-volume edition of collected works;
Place of origin of goods: СССР
Description: Фахове видання для інженерів у галузі машинобудування
Status: Стан добрий. Сторінкові блоки в усіх томах не пошкоджені. Незначні сліди використання. Читабельність 100 %.
(Seller: retry)
Price 400,00 грн.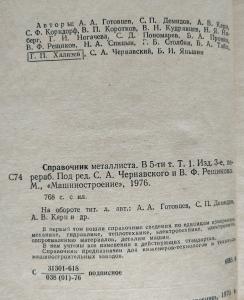 ORDER FORM
Marked with * is required