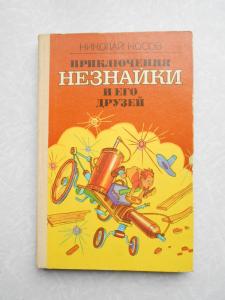 Носов Николай. Приключения Незнайки и его друзей.  1987 binding type: hardcover.
Category: Book, journal, almanac
Rubric: Children`s Literature: Prose;
Place of origin of goods: Азия
Description: К. Веселка 1987г. 158 с. Твердый переплет., Обычный формат. Художники Виктор и Кира Григорьевы - первые иллюстраторы украинских изданий повестей о Незнайке. Иллюстрации черно-белые в тексте и 7 цветных вклеек.
(Seller: sevost)
Price 45,00 грн.
ORDER FORM
Marked with * is required