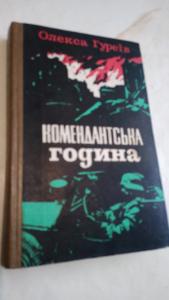 Гуреїв О. Комендантська година Київ: Політвидав. 1979 358s., binding type: hardcover.
Category: Book, journal, almanac
Rubric: Ukrainian prose of XX-XXI centuries.; WW2 The Second World War, 1939-1945.;
Place of origin of goods: СССР
Language: Ukrainian
Description: Ця художньо-документальна повість присвячується боротьбі Київського партійно-комсомольського підпілля в період тимчасової німецько-фашистської окупації. Безмежно відданими партії, Батьківщині, готовими пожертвувати власним життям заради перемоги над ворогом постають у книзі підпільники – комуністи й комсомольці міста, прості радянські патріоти. Факти, взяті з історичних джерел, письменник доповнив свідченнями учасників подій.
Status: Хорошее
Description of seller: Пересылаю Укрпочтой, Новой почтой по предоплате на карту Приватбанка, или наложенным платежем. Номер телефона 0678742527, 0934826417 Ел.почта [email protected]
ORDER FORM
Marked with * is required