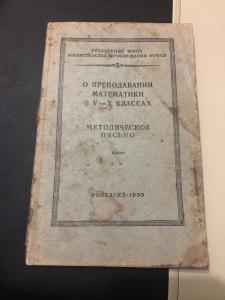 Управление школ министерства просвещения РСФСР О преподавании математики в V-X классах. Методическое письмо. УЧПЕДГИЗ. 1950 92s., binding type: paperback.
Category: Book, journal, almanac
Rubric: Mathematics; Benefits for Teachers; Pedagogy (preschool, school, total);
Place of origin of goods: Россия
Language: Russian
Description: Управление школ министерства просвещения РСФСР. О преподавании математики в V-X классах. Методическое письмо. Учпедгиз, Москва, 1950. - 92 с.
Status: Удовлетворительное. Загрязнения обложки, есть заломы уголков.
(Seller: alenysk)
Price 120,00 грн.
ORDER FORM
Marked with * is required