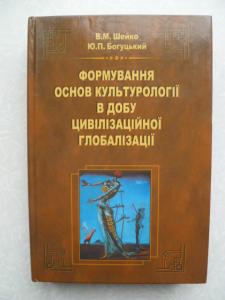 Шейко В.М., Богуцький Ю.П. Формування основ культурології в добу цивілізаційної глобалізації 2005 binding type: hardcover.
Category: Book, journal, almanac
Rubric: Other;
Place of origin of goods: Азия
Description: Монографія є першим у вітчизняній історико-філософській думці узагальненим осмисленням процесів генези та трансформації глобальних цивілізаційних проблем культурології другої половини XIX — початку XXI ст. Аналізується формоутворююча роль культури у визначенні цивілізації, характеризуються методологічні можливості цивілізаційного підходу і особливо — синергетичної парадигми у розгляді історико-культурологічних процесів. Висвітлюється значення психоаналізу для культурології та її творця і носія — людини. Акцентується увага на взаємозв'язку психоаналізу, культури та художньої творчості. Для науковців, викладачів філософії, історії, етнології, психології, археології, мистецтвознавців, студентів, аспірантів, докторантів та читачів, які цікавляться проблемами формування культурології як науки.
(Seller: sevost)
Price 150,00 грн.
ORDER FORM
Marked with * is required