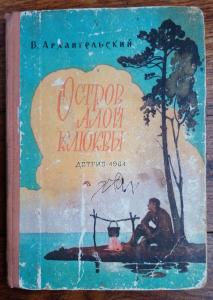 Архангельский В. В. Остров алой клюквы Москва: Детгиз. 1961 112s., binding type: hardcover.
Category: Book, journal, almanac
Rubric: Animals (wild and domestic); Hunting and Fishing; Children`s Literature: Prose;
Place of origin of goods: СССР
Language: Russian
Description: Для младшего школьного возраста. Рассказы. Рисунки С. Монахова. Чёрно-белые иллюстрации. Формат: 15 х 20,5 х 0,7 см.
Status: потёртость и загрязнение переплёта, владельческие надписи на форзаце и передней крышке, небольшие пятна на некоторых страницах, слегка замяты углы нескольких листов
ORDER FORM
Marked with * is required