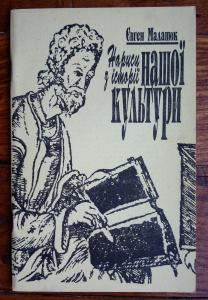 Маланюк Є. Ф. Нариси з історії нашої культури Київ: АТ "Обереги". 1992 80s., binding type: paperback.
Category: Book, journal, almanac
Rubric: Ukrainistics; Sociology, cultural studies, history of everyday life ; Facsimile reprint;
Place of origin of goods: Украина
Language: Ukrainian
Description: Репринт видання 1954 р., Нью-Йорк. У нарисах видатного дослідника-аналітика і поета зарубіжжя подається глибокий огляд етапів розвитку української культури в її тісних взаємозв'язках іх цивілізованим світом від античних часів до початку ХХ століття. Художник В. Харченко. Наклад 50 000. Формат зменшений: 13 х 20 см.
Status: дуже добрий, незначна потертість обкладинки, напис на її задній стороні
ORDER FORM
Marked with * is required