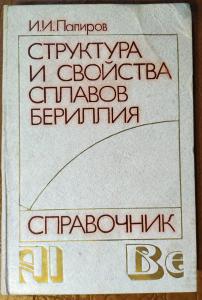 Папиров И. И. Структура и свойства сплавов бериллия: Справочник Москва: Энергоиздат. 1981 368s., binding type: hardcover.
Category: Book, journal, almanac
Rubric: Physics; Engineering, instrument; Metals, Mining;
Place of origin of goods: СССР
Language: Russian
Description: Викладено велику гаму числових характеристик хімічних, фізичних, механічних властивостей берилію, хімічних сполук Ве і конструкційних сплавів Ве з іншими металами.
Status: Задовільний. Сторінковий блок міцний, не пошкоджений. Обкладинка має слід від перегину (фото). Читабельність тексту 100 %.
(Seller: retry)
Price 100,00 грн.
ORDER FORM
Marked with * is required