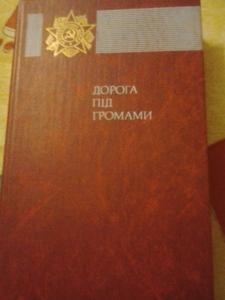 Дорога під громами Київ: Дніпро. 1985 504s., binding type: hardcover.
Category: Book, journal, almanac
Rubric: Historical novels; Adventure; WW2 The Second World War, 1939-1945.;
Place of origin of goods: СССР
Description: Серія \"Звитяга\" (\"Доблесть\") Зміст: Євгеній Носов - Усвятські шоломоносці (з рос.) Василь Биков - Дожити до світанку (з білорус.) Анатолій Дімаров - Постріли Уляни Кащук (укр.) Мкртич Саркісян - Сержант Каро (з вірмен.) Ахіяр Хакімов - Міст (з башкир.)
Status: Хорошее.
Description of seller: Пересылаю Укрпочтой, Новой почтой по предоплате на карту Приватбанка, или наложенным платежем. Номер телефона 0678742527, 0934826417 Ел.почта [email protected]
ORDER FORM
Marked with * is required