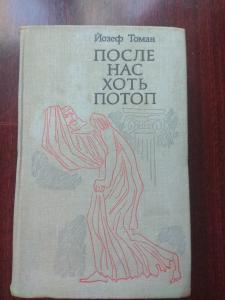 ЙОЗЕФ ТОМАН ПОСЛЕ НАС ХОТЬ ПОТОП Москва: Прогресс. 1973 624s., binding type: hardcover.
Category: Book, journal, almanac
Rubric: Historical novels;
Place of origin of goods: СССР
Description of seller: Действие происходит в Римской империи времен цезарей Тиберия и Калигулы. Главный герой - молодой сенатор и военачальник Луций Курций, победитель диких парфян в Азии. После возвращения в "загнивающий" Рим, он встает перед выбором между демократией и тоталитаризмом.
(Seller: Olenka)
Price 25,00 грн.
ORDER FORM
Marked with * is required